U2 in Berlin Special Tour - the Original - combined Multi Media Bus Tour & Hansa Studio Tour in cooperation with u2tour.de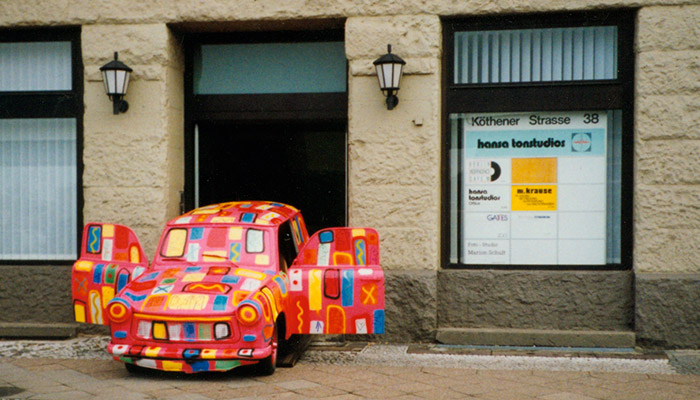 Topic
An exciting journey through U2's Berlin in the early 90's until today.
When U2 started working on their ACHTUNG BABY album in October 1990 everything was changed. Legendary Hansa Studios were still located directly at the Berlin Wall but the borders were opened about a year ago. The city was preparing the first reunification day/ German Day of Unity and still situated in a state of shock respectively a delirium of joy since the Wall came down on 9. November 1989. Many Berliners were looking forward to the reunification and the "holy" Deutschmark - others were very frustrated and against the quick reunification process, felt betrayed with their right to a say.
U2 just arrived in the middle of this specific but also pretty difficult situation for Berlin and the whole country. The band wanted to produce something special and unique, an album that shows their personal point of view but also capture the greater good before it changes and getting maybe to conventional. In order to not ending up to pathetic they used a great ridiculous and less serious album title - ACHTUNG BABY. In 2011 the album was re-released after 20 years and added with a wonderful documentary "From the skydown" which is to date the most beautiful and honest retrospect to their Berlin period.
With the U2 Berlin Tour we make a journey through the (back then) fresh opened walled-in city. We start in front of MEISTERSAAL / former Hansa studio 2 / "the big hall by the wall" & let the atmosphere of ACHTUNG BABY album production come to life again with images, anecdotes and some sequences of music. Especially the recording of their Berlin-anthem "One" was a very important moment for U2 and of course we review this scenario properly. Just in calling distance located Brandenburg Gate was used for a special U2 live performance during MTV EMA show in 2009 with a nice 7 song gratis set in front of more than 10.000 fans in cold November weather.
During our multi media bus tour we follow the bands tracks in the city - from the also pretty cold video shoot of One, diverse photo shootings for the album, adventurous first accommodation in former East-Berlin, later TV-tristesse in former Palasthotel, strange war storys from Berlin Zoo and memorable live shows in former Metropol Theater – we will document it all.
Anyhow Berlin has changed a lot since the early 90's but with the U2 Berlin Tour you will get an idea what was influential here for the band and Bono and what makes them coming back constantly - to meet Angela Merkel, work at Hansa Studios or to perform live at Berlin Olympic stadium.
Find the latest news and background infos about U2 at www.u2tour.de.
Registration
Please note that these special tours are only possible by request and availability as we can't step into Hansa Studios every day because of recent productions or events there - they have always priority of course. But there is no other way to see Hansa Studios, just with our tours. Please also check our menu HANSA STUDIO TOUR if you wish to see Hansa Studios only.
Please check available tour dates for the U2 BERLIN TOUR (combined multi media Bus & Hansa Studio Tour) through our menu item TICKET and fill in the requested contact details there.
U2 Berlin Tour
Start

Meistersaal, Köthener Str. 38, 10963 Berlin

Duration

3 hours

End

Meistersaal, Köthener Str. 38, 10963 Berlin

Dates

Public tours on selected dates & private tours by request & availability

Price

depending on final group size