Depeche Mode in Berlin Special Tour - the Original - Hansa Studio Tour in cooperation with depechemode.de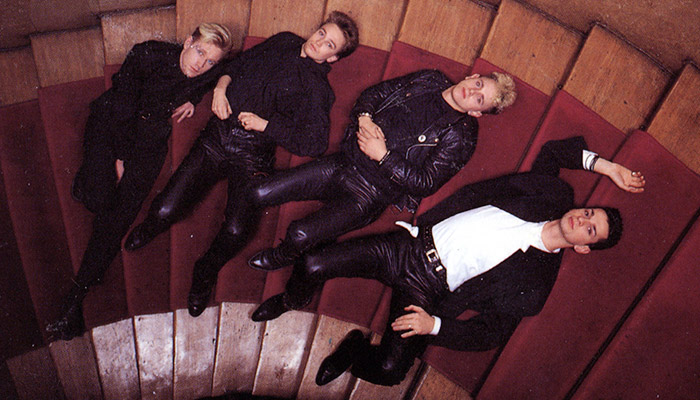 Topic
An exciting journey through the Berlin universe of Depeche Mode from the early 80's until now.
When Depeche Mode started to work at legendary Hansa Studios back in 1983 the studios where still located directly at the Berlin Wall. The building has been renovated inside and outside for lots of money since Bowie & Iggy were here, but Potsdamer Platz was still like "the end of the world", the city was divided and it seemed the Wall would stand forever there. Faithful fans the band had already back then on both sides of the Wall and the city has a very special meaning to Depeche Mode up till today. Not only because of a legendary concert back in 1988 in East-Berlin behind "the iron curtain" or because Martin Gore lived in the mid 80's in West-Berlin or because the Boys loved to check out the Berlin nightlife – first of all the band worked at Hansa Studios on four albums in a row from 1983-1986. For many DM fans the songs and albums of this period are amongst their all time favourites and not only a few of them wishes hardly that Mister Alan Wilder will come back to Depeche Mode.
Whatever happens in future – with the Depeche Mode Berlin Tour we dive into the Berlin years of the band. During the tour we visit the available parts of Hansa Studios and let the 80's atmosphere of this very special place come to life with many rare images, exciting anecdotes and nice music sequences. Everything counts, People are People, Shake the disease, Question of time, Stripped – milestones in the band's career and of course there is a lot to talk about in the studios.
Of course Berlin has changed a lot since Dave, Martin, Alan and Fletch were working here regularly but with the Depeche Mode Berlin Tour you will get an idea what was fascinating for the band back then and brings them still back to Berlin again and again – for working at Hansa Studios still or performing at the O2 World or at Berlin Olympic stadium.
Find the latest news and background infos about Depeche Mode at www.depechemode.de
Registration
Please note that these special tours are only possible by request and availability as we can't step into Hansa Studios every day because of recent productions or events there, they have always priority of course. But there is no other way to see Hansa Studios, just with our tours. Please check available tour dates for the DEPECHE MODE BERLIN TOUR through our TICKET menu and fill in the requested contact details there.
Depeche Mode Tour
Start

in front of Meistersaal

Duration

2 hours

End

in front of Meistersaal again

Transport

S+U Sta. Potsdamer Platz (S1, S2, S25, S26, U2)

Dates

Tours are possible by request & availability

Price

depending on final group size