The ultimate DM party at legendary "Meistersaal"/ former Studio 2 of Hansa Studios Berlin for closing Global Spirit Tour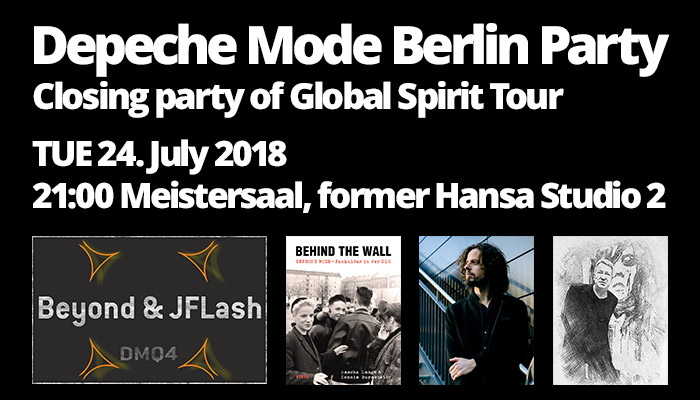 Presented by Berlin Music Tours in cooperation with Sony Music, depechemode.de und BESL Event Agency
On Tuesday, 24. July 2018 we will celebrate the DEPECHE MODE BERLIN PARTY at Meistersaal/ former Hansa Studio 2 according to the tour-final of GLOBAL SPIRIT TOUR.
It's the day between the last two sold out Berlin shows at Waldbühne venue and of course we will have a little birthday memory of Mister Martin Lee Gore who turns youthful 57 years old the day before.
The "Meistersaal" is a legendary place of course and did not only inspire Martin for some naked moments – the great David Bowie had kind of a rebirth at Hansa Studios and was fascinated by the specific sound of "the big hall by the wall".

We organised a real nice program for the Depeche Mode Berlin Party 2018 and start the evening with a very special guest – Mister DENNIS BURMEISTER, who will sign not only the international versions of the DM bible "Monument", but also the newest book from him and Sascha Lange, called "Behind the wall – Depeche Mode fan culture in the GDR" – a wonderful time travel back to the DM fan club scene in East-Germany – check this out.
Parallel we will show the fantastic Hansa Studios TV documentary in the big hall with features from Gareth Jones, Daniel Miller, Martin Gore and many more artists, bands and their sound wizards.

LUKAS VON SAINT-GEORGE, a good friend and photographer of the band shows some of his best Depeche Mode images for the very first time in public at "Wandelhalle"/ entrance hall of "Meistersaal" venue and is present for a chat – a funny & inspiring guy, you will see.

As DJ will Mister FORCED TO MODE (by the way the best DM tribute band of all times) – Christian Schottstädt give us one of his rare and special sets.

And as a very special performance we could arrange BEYOND & JFLASH with their extraordinary DMQ4 - Depeche Mode - Quadrofonic Surround Set for the party. You will be amazed – the sound really comes from EVERYWHERE – take a sound-bath in the DM songs & remixes the guys present in best Surround Sound Quality. Of course we will have an eye & ear on the Berlin period of Depeche Mode here.
All german infos & news & updates around the band you can get on www.depechemode.de

TICKETS for the Depeche Mode Berlin Party you can get easily via www.reservix.de
Presented by
DEPECHE MODE BERLIN PARTY
Closing Party for Global Spirit Tour
Date:    TUE 24. July 2018
Venue:    Meistersaal at Potsdamer Platz, Köthener Strasse 38, 10963 Berlin

Doors:    21:00 CET
Start:    22:00 CET

Video:    HANSA STUDIOS TV documentary
Books:    "Monument" & "Behind the wall…" by DENNIS BURMEISTER & SASCHA LANGE

Special Set:    BEYOND & JFLASH - DMQ4 - Depeche Mode - Quadrofonic Surround

DJ:    CHRISTIAN SCHOTTSTÄDT (Forced to Mode) Hansa Studios Berlin Set
Images:    LUKAS VON SAINT-GEORGE shows DM photos from his private archive
Price: 25 EUR plus pre sale fees
DM BERLIN TOUR SPECIAL – HANSA STUDIO TOUR
During the week from 20. – 27. July 2018 we plan to offer our beloved DEPECHE MODE BERLIN TOURS – this time as a Hansa Studio Tour Special.
Check out current tour dates & times:
FRI 20. July 2018 - 10:30 german tour / 14:00 english tour
SAT 21. July 2018 - 12:00 german tour / 16:00 english tour
SUN 22. July 2018 - 12:00 german tour / 16:00 english tour
MON 23. July 2018 - 10:30 german tour / 14:00 english tour
TUE 24. July 2018 - 10:30 english tour (plus DM BERLIN PARTY in the evening at Meistersaal)
WED 25. July 2018 - 10:30 german tour / 14:00 english tour
THU 26. July 2018 - 10:30 german tour / 14:00 english tour
FRI 27. July 2018 - 10:30 german tour / 14:00 english tour
The space is limited, you can pre order these tour specials via english TICKETS menu (please select "Depeche Mode Berlin Tour") here: musictours-berlin.de/en/tickets